Do you know how long would your savings last if you or your spouse needed long-term care? For the vast majority of people, the need for long-term care is not a question of "if" but "when."
You've probably gone to great lengths to save enough money to enjoy your retirement, so protect your hard work.  The truth is, that nest egg can disappear quickly if you, or your spouse, are among the 70% of people who require long-term care after 65. The best way to defend yourself and remove the burden from your family is to face the challenge head-on, on your terms with long-term care insurance.
Sit back for 4 minutes and listen to Byron explain the basics of long-term care.
By comparison, there's only a 1 in 1,200 chance your house will burn down. Of course, you would never dream of going without homeowner's insurance. With such high odds of needing long-term care, you can't afford to treat this subject as "unthinkable." It will affect almost everyone at some point. The question is, will you be financially prepared or not?
What exactly is long-term care insurance?
Long-term care is ongoing assistance with some of the most basic Activities of Daily Living (ADL), specifically:
Eating
Dressing
Bathing
Toileting
Continence (the ability to control your bladder and bowel movements)
Transferring (the ability to get yourself out of a chair or bed, walk across the room and sit in another chair).
The need for care mostly stems from disability, chronic illness, cognitive impairment, or just getting older. But long-term care is not just for the elderly. Accidents or illness can strike suddenly, at any stage of life.
Long-term care can be given in-home, in a nursing home or an assisted living facility.
As you probably already know, these services are quite expensive. A 2015 carrier cost of care survey shows that:
Professional in-home care costs more than $20/hour per person, on average – that's $44,000 a year for 8 hours a day.
A private room in a nursing home goes for nearly $91,000 a year.
And the cost of care is almost sure to increase every year, so these figures are likely only going to get worse. Making long-term care insurance one of the best ways to help pay for these services.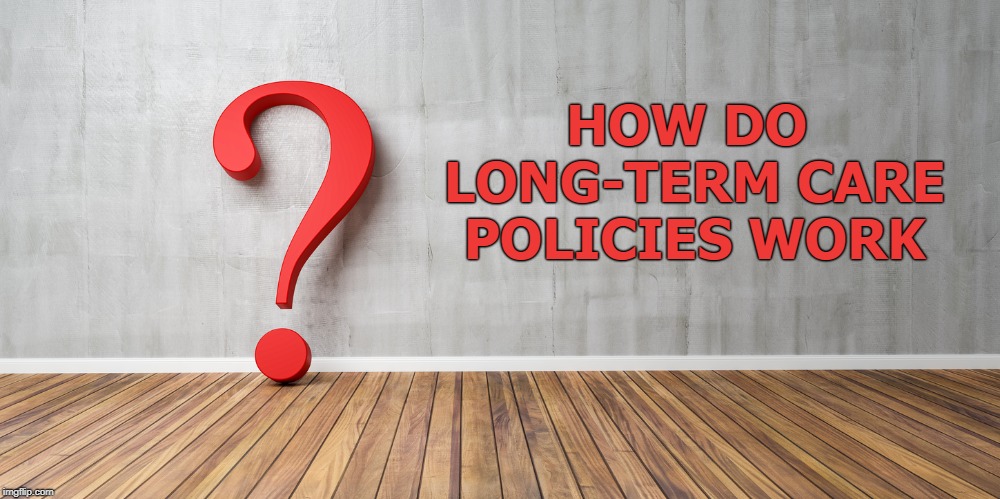 No one gets excited about buying long-term care insurance, paying premiums, and coming to grips with what life will be like when you can't take care of yourself. It's more than a little scary. But it is important to learn how it all works.
Here's what you need to know:
Long-term care insurance benefits can be available if you either:
Have a severe cognitive impairment, like Alzheimer's or dementia OR
Are unable to perform two or more of the six Activities of Daily Living (ADL) without help.
Although your family loves you and wants to take care of you, it may be very difficult for them to provide full-time assistance. That's not really an ordeal you want to put them through anyway, is it?
It may be hard to find someone with the necessary training to provide the help you need without hiring a professional and that's when the expenses start piling up. Just a few dollars a day can protect your life savings.
1. "How much does it cost?"
It depends on several factors, including age, gender, current health and the amount of coverage you want. If you want specifics on pricing and plans, give us a call.
One thing is certain: just as the cost of care is climbing year after year, insurance premiums will continue to increase as well.
The longer you wait to get coverage, the more expensive it will be for you.
2. "I don't want to go to a nursing home. Why should I consider long-term care insurance?"
In fact, most people want to be cared for in their own home. That is why all the long-term care policies we sell, cover these situations. Of course, if you need more skilled care at a facility outside of your home, that's covered as well.
3. "What if I buy a policy, pay my premiums, and end up never needing any care?"
If you're lucky enough to be in that 9% that doesn't end up needing long-term care (remember, there's a 91% chance that either you or your spouse will need it!), then buying a traditional long-term care plan will turn out to be a waste of money. You may want to consider a non-traditional policy.
These plans allow you to buy a "pot of money" for pennies on the dollar that can be used for your long-term care. If you die without having to use it, that money will go to your family.
4. "I've heard of riders. Does long-term care have riders I can take advantage of?" 
Some life insurance policies offer long-term care as a rider or option. Life insurance with an LTC rider is almost always simpler to qualify for than long-term care insurance. And, unlike a traditional LTC policy, it can be designed to have a guaranteed level premium. This rider is a great way to ensure that if you ever have need of long-term care, it's there for you.
The Bottom-Line
We feel that long-term care insurance shouldn't be viewed as an option, but as an essential part of any responsible financial plan. It's never too early – or too late – to get long-term care insurance. If you have more questions, take a look at "What you need to know about long-term care insurance" by Life Happens.
Call us today at 877-794-9814 and get covered!